G' Evening!
Just got done updating somethings. Not having Internet at home, but a website to update, is a bit of a bitch! But, I've got the next couple pages for Dark Horse lined up and ready to post, and I added a new Web-Short I've had done for a couple weeks now. Please check it out!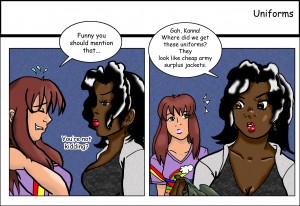 The chica in this one, that's not Kanna, is Ms. Karen Blu. She's based on a friend of mine from college. We haven't seen each other in a while…I hope she's doing well. Anyhow, I have snuck many of friends  into the series, though their personalities and all are going to differ from the people who inspired them.
Well, I got to head home now. Hope you all stay warm, unless you're already in a warm climate, in which case, keep cool!
Ashleen
The Blue Dragon