Untitled
Unframed, 20 x 16….$100
Mixed Media: acrylic on canvas, print paper. I did this as a combination of three artists for a school project. Mixing Barbara Kruger with two other artists' styles. It was a lot of fun to make. Semi-self portrait. I don't really have green skin 😉
Sunflower Sutra
Unframed….$25
Acrylic on bristol. I love the "Howl" poetry book, Sunflower Sutra being one of my favorites. It inspired this piece here, which I did for fun.
Dreamscapes: Starry, Starry Night
Unframed, 20 x 16….$55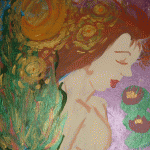 Acrylic on canvas. This piece was displayed as part of the 2009 Opposition: Adversity and Appropriation exhibit. This specific work is just one in a set of "appropriated" works inspired by other artists. Dreamscapes: Starry, Starry Night was paired with Impression: Daylight Again (sold). Fitting in theme with the idea of appropriation, this piece borrows from some of my two main inspirations: "traditional" art and manga (this theme is seen throughout the whole appropriation section of the exhibition). Here is combined both my love of Expressionism (Van Gogh specifically) and Manga.