Good Day!
Just stopping in to say the Shop area has been cleaned up (again,) and updated! I have some added art, and band new stickers in the Dark Horse shop!!!! Check them out here!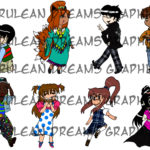 Patreon is coming along and will be opened soon! I am working on the Tier images right now 🙂 That's where the stickers sheet came from 😀 I had been meaning to create this sheet for a looooong time. More will come. I will also have smaller sized sheets available sometime soon, as well.
You can read Dark Horse on Comic Fury, or Tapas 😀
Have a great rest of the week!
Blue Dragon/Ashleen