This weekend, I thought I'd get my mom's present done finally. The mermaid one. I got the background and all completed 🙂 Yay! I still hope to finish my graphic version, also. But that's not a pressing matter.
Here's the paining I did for her: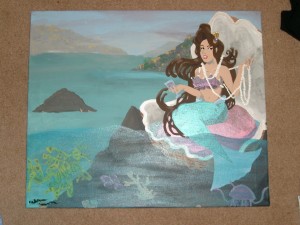 And of course, click to enlarge. Â I should crop the image…but I'm not going to 😛 Maybe later when I add it to the gallery or requests or whatever. But I'm happy that I figured out how to make it look like water was over the tail…without completely blocking it out with. Good old clear varnish and a little bit of acrylic. I don't use the expensive tube acrylic, either. I just use the cheapy craft stuff. It dries hard and works nicely. Plus you get more. Haven't run into a problem yet, except sometimes mixing black with a color is a bit hard. The black dominates. But…it's fixable.
Just a little hint for anyone out there needing cheap paints, too 😉
Okay, I'm tired. I'm gonna close. I'll be back again! Ciao!
Ashleen
aka
Blue Dragon